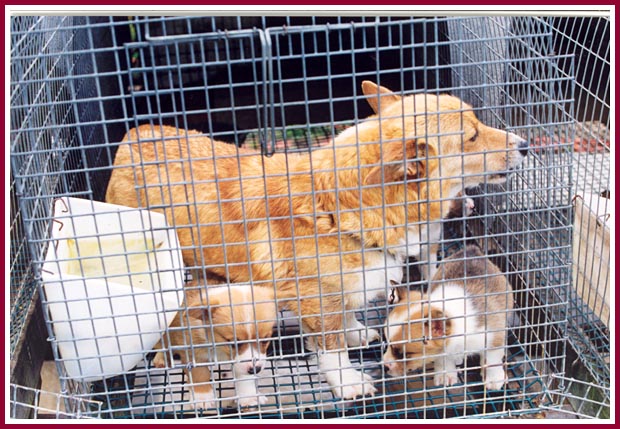 Update Dec. 2: Wisconsin Governor Jim Doyle has now signed AB 250 into law. This bill will regulate commercial dog breeders in the state. 
Read Animal Law Coalition's earlier reports for more on what this new law will mean for the dogs.
Update Nov. 6: The Wisconsin Senate has voted unanimously to pass AB 250. Wisconsin Jim Doyle is expected to sign the measure that will regulate commercial dog breeders in the state.
Wisconsin state Rep. Jeff Smith authored the bill. A Senate version was writted by state Sen. Pat Kreitlow. 
For more on the bill, read Animal Law Coalition's reports below.
Wisconsin joins several states that have passed legislation in the past 2 years to regulate commercial dog breeders, puppy mills.  Virginia, Louisiana, Washington and Oregon all now limit the number of breeding animals that can be kept to breed pets for sale. Similar limits are pending in Massachusetts and New York.
This year California's legislature passed a bill limiting the number of breeding dogs per breeder to 50, but Governor Arnold Schwarzenegger vetoed it. 
Indiana, Arizona, Pennsylvania and Tennessee also recently enacted laws that regulate puppy mills. Illinois formed a task force to study the issue and make recommendations. 
Update Oct. 29: The Wisconsin legislature's Joint Finance Committee has approved SB 208, the senate version of the puppy mill bill.
Update Oct. 28, 2009: The Wisconsin Assembly has unanimously passed a substitute version of AB 250 while the Senate puppy mill bill,  the Senate substitute version of SB 208 has been sent to the Joint Committee on Finance.
Update Oct. 15, 2009: A Senate substitute version of SB 208 has unanimously passed a committee.
What the puppy mill bills will do 
The Wisconsin bills propose to regulate: (1) breeders that sell 25 or more dogs each year,
(2) dealers including out of state dealers that sell, distribute or trade more than 25 dogs each year or offer to do so,
(3) out of state dealers that bring 25 or more dogs into the state for sale, 
(4) auctions that offer 50 or more dogs for sale each year, 
(5) animal shelters including rescues that shelter 25 or more dogs in a year. and
(6) persons operating an animal control facility under contract. 
All of these would be required to obtain a state license from the Department of Agriculture, Trade and Consumer Protection (DATCP) and submit to inspections. Fosters taking dogs into their homes for an animal shelter would be exempt. A one time sale of 30 or more dogs by someone who does not already have a license would also be exempt.
License fees would be based on the number of dogs. A license could be refused or revoked for violations of any applicable law, order, or regulation, or misrepresentations of material facts on the license application. A license could also be revoked for applicants that are "not fit, qualified, or equipped to conduct the activity for which the license is required".
Failure to obtain a license could mean a fine up to $10,000 and 9 months in jail.
No dogs could be sold by licensees unless a veterinarian has certified the animal has no infectious or contagious diseases. No intact dogs could be auctioned without proof of a negative brucellosis test.  All vaccination records must be given to purchasers.  Licensees would have record keeping requirements for each dog. 
No dog under 7 weeks of age could be transferred to a buyer.
The standards of care set out in the bill would require all licensees including rescues: 
provide sufficient food and water to maintain the dog in good health.

provide necessary, standard and timely veterinary care

ensure the dog is kept in a clean and sanitary enclosure made of to be determined materials and of a size that takes into account the dog, number of dogs, and length of time of confinement

allow the dog to be kept outdoors only if it is of a breed or type that is typically kept outdoors, the dog is acclimated to the outdoors, and there is adequate shelter from the sun and inclement weather.

ensure adequate lighting, ventilation and proper temperature

provide daily exercise.

ensure the dog is observed and cared for every day by a caretaker 
Enforcement and penalties 
The bill would authorize seizure of dogs from licensees if there are reasonable grounds to believe there has been a violation of the animal cruelty laws. Owners would be liable for the costs of care.
The ability to inspect as well as to issue conditional licenses and impose summary suspensions will help with enforcement. The state would also be able to impose fees for follow up inspections required because of violations.
Violations of the law including regulations issued by DATCP could mean a fine up to $1,000 for a first offense and fines from $200-$2,000 per violation for subsequent offenses within 5 years. 
The bill would also regulate "temporary dog markets", flea markets, roadside sale and the like where dogs are often sold with little or no exchange of information. These markets promote impulse purchases.
An advisory board would be appointed to help with administration of the law and drafting and implementation of regulations. Members must include veterinarians, animal control, humane society representatives, large and small breeders, breed rescues, retail pet sellers, and "sporting" dog associations.