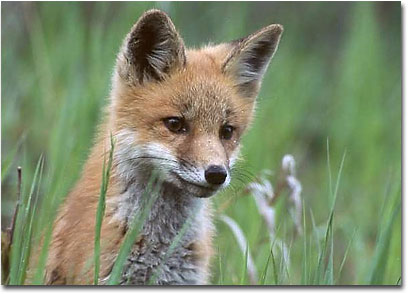 Update 2011:  S.B. 46 has become law. The other bills listed below did not pass in 2011.
Original report: A number of bills pending in the North Carolina legislature would allow hunting or trapping of foxes or coyotes in certain counties regardless of Wildlife Resources Commission regulations.
The bills would not prohibit use of leghold traps, for example, which cruelly snap legs as they clamp onto the animal. Leghold traps are also dangerous for children and pets that can become caught and seriously injured in them.   
H.B. 201 – would allow "open season" on foxes with weapons and traps in Bladen County during the trapping season for fur-bearing animals; there would be no bag limit.
H.B. 156/S.B. 161 – would allow the taking of foxes with the use of rubber jaw or foothold traps from January 2 through February 28 of each year in Lenoir County with no bag limit and the Wildlife Resources Commission would make arrangements to allow the sale of foxes caught in this way, presumably to Controlled Hunting Preserves. North Carolina law allows foxes as well as coyotes to be hunted by dogs on such preserves. N.C. Gen. Stat. § 113-270.2 and -273. In these "preserves" or enclosed areas, foxes and coyotes are hunted down and ripped to shreds by dogs.
S.B. 46/H.B. 151 – has already passed the North Carolina Senate and is pending in the House of Representatives and would allow the taking foxes and coyotes with lawful weapons or traps from October 15 through March 1 of 6 each year in Surry and Alleghany Counties with no bag limit and the Wildlife Resources Commission would then provide for the sale of foxes.