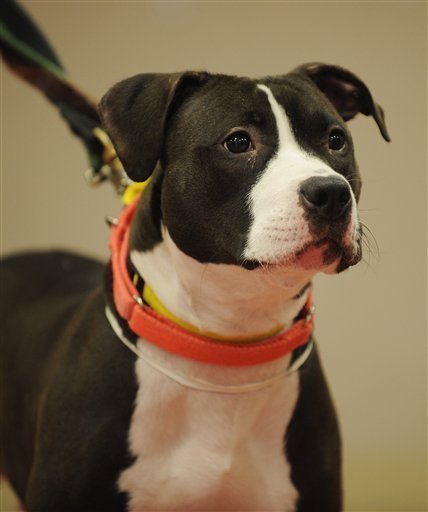 The New York Assembly Agriculture Committee has decided to hold A.B. 9449/S.B. 6412, dubbed Oreo's Law, for further consideration.  This means the bill is unlikely to advance further this legislative session.
New York Assembly Member Micah Z. Kellner and State Senator Thomas K. Duane introduced A.B. 9449/S.B. 6412  which would have required public shelters, humane societies and societies for the prevention of cruelty to animals, to release animals to any 501(c)3 animal rescue or adoption organization that requested possession of them.
The bill was named Oreo's Law in memory of a dog who became well-known after she survived abuse at the hands of her former owner, Fabian Henderson, who in his final act of torture, threw her from the top of a six-story building. Oreo recovered from her injuries but was  euthanized after the ASPCA determined after extensive testing that she was too aggressive. After months of care and evaluation, the dog was determined to be "unpredictably aggressive," biting even caregivers.  The dog was, of course, very frightened and did not really trust anyone. Pets Alive Animal Sanctuary offered to take Oreo, but the ASPCA refused the request.
ASPCA President and CEO Ed Sayres said that in a sanctuary, Oreo would have had to live in isolation from people and other dogs. He said her quality of life would have been "virtually nothing".
Others suggested ASPCAÂ should have delayed evaluation of the dog until she had gone through a rehabilitative process.
Fabian Henderson, 19, pleaded guilty in State Supreme Court to felony animal cruelty to Oreo.
The provisions of the bill
Under the bill the following animals were not required to be released on demand: (1) animals "physically suffering irremediably" as long as a licensed veterinarian has issued a written, signed certification stating "that the prognosis for recovery is poor or grave even with comprehensive prompt and necessary veterinary care;" (2) dogs symptomatic for parvovirus and cats symptomatic for panleukopenia which conditions have been confirmed by a licensed veterinarian in a written, signed certificate which also states "that the prognosis for recovery is poor or grave even with comprehensive prompt and necessary veterinary care;" (3) animals which a veterinarian determined showed signs of rabies and (4) dogs declared "dangerous" by a court.    
Organizations would have been barred from taking animals if an "officer, Board member, staff member or volunteer" is currently charged or has been convicted of violation of a "statute" to prevent animal cruelty or neglect or dog fighting. There were no other restrictions on the 501c3s entitled to take animals on demand.
Opposition to the bill
The New York City Bar Association, the New York State Humane Association, the ASPCA, and Animal Law Coalition, among others, opposed the bill. It was not endorsed by a number of national animal welfare organizations.
Certainly public shelters should be required to work with rescues to save lives. The bill as written, however, would not have created the kind of working relationship between shelters and rescues that is needed to save lives and could have meant more suffering and death.
The bill would have required animals to be released on demand to a 501c3 as if that says something about the organization's capability to care for animals. A 501c3 is a tax designation and does not indicate whether the organization provides excellent care or is a hoarder or "hellhole", a seriously substandard facility.  
It is very difficult to obtain convictions for violations of animal cruelty "statutes", the only restriction on the 501c3 organizations that could take animals on demand. Rescues with employees who had been found in violation of animal protection regulations (as opposed to "statutes") or previously charged or investigated for violations of the law or who have had animals seized for hoarding or cruelty, without charges filed or pursued, could still obtain animals on demand.
In New York State, where shelters and rescues are largely unregulated – as well as in other states, whose shelters and rescues would also be able to demand release of an animal under the bill – hoarding and other  cruelty is many times never discovered or simply not prosecuted. 
There are any number of 501c3s that are hoarders or seriously deficient "sanctuaries" with animals living in desperate, filthy conditions with no hope of adoption to a good home. Any of these terrible places could demand animals from a shelter under this bill. 
The bill did not require the 501c3 to be vetted at all to establish the organization is not a hoarder or substandard and could instead provide adequate care.
The authors and supporters of this bill refused to place qualifications on the rescues.
It should be noted the bill here is modeled after California's Hayden law which mandates that public shelters or agencies must release stray dogs and cats to any 501c(3) non-profit group that requests them. CA Food & Agr. Code §§31108, 31752   
When California passed a law like this in 1998, they knew the risk of having animals end up in the hands of some criminal, terrible people. They decided so many animals were dying in shelters, that they should risk it.
The California law was passed in 1998 as part of a comprehensive effort to save adoptable or treatable animals in shelters that refused to release them and instead euthanized them. The California law is not limited to adoptable and treatable animals but guided by that goal.
It is not the same desperate situation in New York in 2010. Mayor's Alliance working with more than 160 rescues moves 1500-1700 animals from the New York City shelters each month. The rescues are vetted. 
Illinois also has a similar law, but release of animal to rescues is specifically limited to "unclaimed dogs and cats deemed adoptable by the animal control facility"  Illinois Public Health and Safety Animal Population Control Act, 510 ILCS 5/11. Nonprofit shelters are required to be licensed and are subject to regulation under the IL Humane Care for Animals Act, 510 ILCS 70, 70/2/01h; and Euthanasia in Animal Shelters Act, 510 ILCS 72, including recordkeeping and care requirements. 8 Ill. Adm. Code 25.130 Foster homes are subject to regulation, care and recordkeeping requirements and must be "accessible for general observation" to determine compliance with "sanitation and the quality of care being afforded the animals."  8 Ill. Adm. Code 25.140.
Significantly, under Illinois law animal control cannot release any animals to a rescue that is not licensed or does not have a foster care permit. 510 ILCS 5/11
Ironically, had this bill been law at the time, it would not have saved Oreo. This bill stated dogs declared "dangerous" don't have to be released to a rescue. It is a relatively simple matter for public shelters to have dogs declared "dangerous" and that is likely what would have happened to Oreo.
If this bill were to become law, it is likely shelters would stop making an effort to the extent they have, to work with rescues to provide training and homes for difficult dogs and simply refuse to release them at all because under this bill it would become the protocol not to do so, to have the dog declared "dangerous" instead.  The shelters would not want to release these dogs on demand and so would err on the side of caution by having them declared dangerous. The bill would mean more shelters moving to have more dogs declared dangerous and more dogs with aggression or behavior issues would simply be euthanized as "dangerous". It could also generate efforts to make it easier to declare dogs "dangerous", make dangerous dog laws more onerous, or overturn the New York state ban on breed discrimination. 
It should not be acceptable to abandon dogs with aggression or behavior issues and risk an increase in the numbers of dogs deemed "dangerous" and euthanized.  
What should happen
New York should consider a bill that requires public shelters to work with qualified rescues, rescue and transport coordinators, with protocols for handling all animals including management and training for dogs with aggression or behavior issues.  Or New York should consider implementing upstate some voluntary, contractual arrangement such as Mayor's Alliance has with NYC shelters. It makes sense to find out first the scope of the problem outside of New York City in New York State and also how the California and Illinois laws have worked to save lives.
This bill offered neither of these options.